The story of an 8-year-old girl born without legs and becoming a gymnast inspires many people around the world. No matter what situation you find yourself in, nothing is impossible.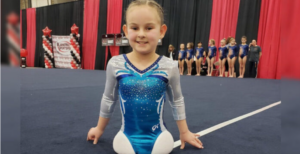 Paige Calendine's parents gave birth to a child without legs, but they did not give up, they decided to enroll her in gymnastics classes at the age of 18 months. Now Paige is a fourth grade at Maysville Elementary School in Zanesville, Ohio and a children's gymnast.
Paige told WSYX, "Parents sign up for their kids to attend gymnastics because they want their kids to have healthy bodies. It was difficult at first, but I got used to it.
Paige trained at Zanesville gymnastics and became known as a determined athlete. The proud parents of little champions, Sean and Heidi, were always behind to support her.
Sean said: "We have been teaching her gymnastics since she was 18 months old, she has been trying hard and getting better and better."